FS2 Volo Install video on Youtube compliments from Ray. Thank you Ray. More trouble shooting below. Install Tips.
Raw data, no changes, 100% truth, Negative advertising, but truthful. Hydrogen Garage is here to help, not deceive. Also note, most will post a negative comment to complain, rather the guy who gets good results, will not comment. Please send us your results so we can keep adding to this page. Trouble Shooting below
2005 Chevy Impala - 32 to 48 MPG. 50% gains!
2008 Chevy HHR - No results. The FS2 made no change for this car. It was getting 450km per tank. The last tank was 410, seems worse.
Buick Century 3.1 engine with a HHO booster added. Our results with the FS1 chip were good, the engine ran well as expected approximately 20%.
Dodge intrepid 1996 - I did not find it made any difference to my mileage at all. My normal mileage is 26 mpg. I tried it many times I have a Scangauge II.
The two FS2 circuits that I bought from you work great, 10 mpg gain on the Dodge & 8 mpg gain on the Saturn. Thanks
Suzuki 1998 Baleno & a Esteem 5 door hatch & a Holden Commodore 2000 - Dear Staff and Bros, Have been installing the FS 2 -HHO Flasher into 2 vehicles. Both have improved performance immediately. We have installed a Hydrogen Cell 33 plate 5 neutrals , 445 nm system to the Suzuki. The owner is testing the vehicle at the moment with 2 tanks of fuel and will give us a KM to Litre percentage shortly. No problems encountered as yet God Bless.
Chevy S-10 Blazer, 1996 - I installed the chip and a B3 cell in addition to the cell of my own design on my Blazer before we took a trip to Mexico from our home in Colorado. I had better mileage coming out of the mountains and across the desert, than normally, but after Flagstaff and down to sea level, it became worse. I am now at our place in Baja and have disconnected the chip. What I noticed with the chip is that it seemed to lean out the injectors, but this caused a loss in power and I had to compensate with more pedal pressure, resulting in more fuel usage. I am now testing the mileage without the chip for a comparison during our stay here and subsequent trip back to Colorado. I feel the chip is working but I still get too lean codes. I have my scanner with me and the mileage has decreased. Will let you know the results when i get back home the end of this month.
Dodge Neon 1997 - I have the unit with only a water bubbler since my hydro cell is not yet ready. However, I noticed that my car runs smoother and I feel a little more power. I was expecting my car service light will turn off but sometimes it does but it also comes back on again. I would like to try the upgrade to the FS2.
Ford f250 99 diesel truck - My installation went well, 1st tank of fuel shows declining fuel economy. I haven't installed my hho gen. yet and I was wondering if I should reset my chip .What would you suggest?
Yes reset it, when you change things ( add a HHO booster)
Dodge Magnum 2008 & Saturn Ion 2007
The Magnum was getting 18 to 20 mpg. with hydrogen -24 mpg. then with the FS2 - 35mpg. and I think it will do better, the hydrogen is cutting in and out because of a 20 amp re setting circuit breaker. The Saturn was 30 to 32 mpg. no improvement with the HHO.Then with the FS2 38 mpg., but I am having a problem with not enough HHO production. I am working on that, I feel that I will be abel with more HHO the mileage will jump to 50 mpg.
Ford Expedition 2004 = I get between 2 and 3 MPG. improvement with the chip. I am considering one for my 2004 GMC Sierra.
Chevy Astro Van 1997 =I'm into only a weeks worth with the FS2. I do notice a substantial increase in HP & torque. I don't notice much in the way of better MPG as yet,C but that may be cuz I'm driving it harder, cuz it's fun having more power. I'm using a 1 lpm HHO boost also. I was getting higher MPGs I think using the FS1 than the FS2HHO version, but without the additional gain in HP. I also have my air intake reduced to tell my ECU that I'm at a higher altitude, so maybe that's why I'm not seeing a larger increase in MPG., but it was that way with the FS1. soooo, I'll post the results if any after removal of said intake-blockage..
Chevy pickup 4 wheel drive 2004 = I have the FS2 installed on my truck with the 5.3 engine.The best mileage I have gotten with it is 21 mpg on a 40 mile trip highway and some city driving with hho on. I had the FS1 on before without hho and the best I got was 19 mpg. I get 18 mpg stock.

GMC Sierra Truck 2006 = I'm not a very exacting person but I do know this device is saving me money the truck idled at 900 rpm's, its now slower at about 500 rpms.
2000 Intrepid = The FS2 made no change for this car. It was getting 450km per tank. The last tank was 410km seems worse.
Dodge Ram 1500 4.7, 2002 FS1 results = I wanted to let you know that at 15A we were at 15% but now at 11.5A we're up to 30%! I guess the FS2 has a limited ability to compensate. Anyway, there is a guy with an FS2 that says he's at 21A, 6MMW, and from 19MPG up to 26. I don't know if it's true- but he does have an 'HHO drier'. What do you know about these? There was a guy a while back selling driers on e-bay that swore they were the key to lasting gains.
BMW Z3, 6 cyl., 2.8, 1997 FS2 results = Used to get 20 MPG on a average. Now gets around 25 MPG on a average with the addition of a cell, 1 lpm, 15 amp draw & FS2 HHO Edition circuit Engine has more horsepower and can buy the cheaper grade gas. Square wave pulsed DC makes the better ortho hydrogen, in which is like adding 120 octane gas into your air mix.
Saturn Ion , FS2 results = 40+ MPG. I was very happy with the installation on the Saturn Ion I am up to 40 + and am expecting another at leased 5 to 10 mpg when I install the cell exciter on the Dodge. I enjoyed talking with you yesterday and look forward to doing it again.
Chrysler Intrepid, 1996 , FS2 results = 409.000 kms no fuel cell have't tried with a cell yet but will inform when I do, so far so good. 23 mpg to 34 mpg at 120.00 kmh 70 mph.
Ford F150 truck , 2002 , FS2 results = It has been a few tanks of gas and I am getting the same mileage as before but I have not added the hydrogen generator. One thing I noticed is that the response of the accelerator is much better, like a new car.
Ford Explorer 1998, 4x4 4.0 litre I already had HHO booster, a dual O2 EFIE & MAF enhancer. After installing the FS2-HHO-Edition, I gained an additional 2 mpg.. Original mpg. was 16.5, now getting 22.
1996 Isuzu Rodeo & 2003 Chevy Malibu So far I've had two successful installations with Volo FS2 and putting two of my cells on each vehicle. We seen a 10-12 mpg increase on a 1996 Isuzu Rodeo with two of my big kits, and I believe this one will go up more once kits are conditioned, and a 10-20 mpg increase on a 2003 Chevy Malibu! Awesome! out of this world amount of power from each vehicle that I put them on! If you want to find out more!
2007 Cadillac No improvement in gains.
2003 Lincoln Navigator - worse mileage when I installed the Volo FS2
1999 Chevy Silverado 1500 I just bought and was delivered a FS2 circuit for my 1999 Chevy Silverado 1500. I am very pleased with the shipping speed and the product was extremely easy to install. I have notice a significant performance increase within minutes.
2002 Chevy Silverado 1500 Went from 15 to 18 mpg to 20 to 22 mpg. FS3 - Fuel Saver Volo circuit. No HHO booster.
2007 FORD F150 5.4 engine I installed the Volo FS2 chip and hydrogen generator producing 3 LPM before my trip to Florida about 3000 miles return trip. Went from about 17 MPG to 23 MPG I also notice the difference in engine power. When I return home near Ottawa Canada I went for the second emission test I did one before installing the HHO the CO,came up to 0.00, so not only I save money on gas I also reduce the pollution! Thank you Hydrogen Garage for the info and the help
1996 Ford Falcon We got 50% better mileage, with a FS2 - Fuel Saver Volo circuit, with a HHO booster, in Aus.
2003 Chrysler Concorde No results, sent it back for refund.
2005 Ford F-350 diesel. No results with HHO booster, at 1 LPM up to 3 LPM, no results, volo did not help either.
The 2nd Chevy HHR . With no results with volo FS2.
2006 Chevy Duramax This customer was written up in Sand Sport Magazine. CVHHO 8x10 hydrogen cell system & Volo FS2, plus a K&M air fliter. Used to get 380 miles per tank load, now gets 510 miles per tank load. approx. 34 to 36%% increase in fuel economy. Update 11/12 ( 225K miles on this work truck, since the hho cell was installed, still running after 2 years of driving, no problems and he just add water and never had to clean out the cell and never added electolyte evr again. Just distilled or R.O water.
2008 Toyota 4-Runner When we first got the truck we ran it on 87 octane gasoline for a few months and was averaging 14.5 mpg which fell in the range of 14-16 mpg the manufacturer was advertising for city driving. We then started to treat each tank of gas with acetone and over a period of six months the average increased to 20 mpg. After installing the Volo we now average between 21-22 mpg. So I believe we received a 1-2 mpg gain with the Volo without a HHO system. I will let you know what happens after installing the HHO system.
--------
New Volo results. (11/2010) We recently sent an e-mail to all our customers who have purchased a Volo FS2 or FS3 or VP12 circuit from us. We asked for their results. Some customers were gracious enough to type back their results, good or bad. We left off there names and location, but left their humor alone. Here is what they said. We placed the replies in the order of the date sent to us. The bottom of the page comments are the most recent. to find your make, model car, use your "command f" or "control f" to search for your car on this page more quickly. We have troubleshooting the chip lower down this page.
E-mails : 11/01/2010 to 11/15/2010
2005 Chrysler Town and Country - no gains
1996 Dodge Ram B3500, 5.9 ltr magnum rv made by Interve. It is a heavy machine with all the camping kit etc. when i first bought it i was getting about 12 mpg "english gallons" city driving without hho . With the volo fs2 hho fitted and a experimental hho kit that improved to 18 mpg per tank "133 litres". This was over a week of motorwaycruising at 55-65 mph and town driving 20-35 mph. I have not done a town only comparison yet but will soon and send you the results.
-----
Ford Ranger 2002 I've installed the volo chip on my 02 ford ranger and found that my mpg went from 13 mpg to 18 mpg in the summer. But back to the 13 in the fall so i'm working on a heated air intake right now. My mpgs are currently at the 20 to 23mpgs as of 11-04-10. I'm also running a 21 plate HHo cell.
------
Dodge Ram 2500, 1997 5,9 L gas engine. I installed my volo on a 1997 Dodge 2500 5.9 gas engine with about 185000 miles. I was getting 8-10 mpg. I added a HHO generator with a PWM and your Volo. I consistently get 14-15 mpg. To verify this I disconnected my HHO generator and I once again get 8-10 mpg. I installed another on a
2004 Chevy Impala with a HHO generator,PWM and Volo. I went from 24 mpg to 28-32 mpg. I installed another on a
2009 Chevy Suburban with the 8 cylinder that cut out cylinders an needed to improve mileage I installed HHO generator, PWM and Volo. The truck went from 15-16 mpg to 24 mpg. The customer ran several tanks of gas and used his onboard computer and paper and pencil to figure mpg. He also informed me he would let me know if there was any shift in the preformance. Thanks
------
1998 Jeep Grand Cherokee LX 5.9 V8. Since FS2 is installed the engine is delivering more :torque and runs smoother, savings are around 8%, without any HHO. Hydroxy 7x7cell config, dry-cell, 200-160mm will be installed in a few days, info will follow soon.
-----

Ford Mustang 2001 Cobra I am still "tweaking" the Volo. So far, I'm NOT impressed. I own a 2001 Ford Mustang Cobra (4cam V8). I purchased the Volo chip instead of an EFIE as making adjustments to the ECU makes far more sense then voltage adjustments on sensor's. The big-issue here is the programming of the ECU, which prevents alterations to the Fuel/Air ratio and it's noted under the hood that this vehicle is emission controlled and therefore fuel-rations can NOT be adjusted. How limited thinking is that! Of course, they want us to suck the gas, what I believe was the main reason why EFI was put in cars to begin with, to make it far more difficult to get good gas mileage and keep this control under the manufactures of the vehicles What makes the most bucks of any vehicle? It's not the purchase of the vehicle, it's the fuel over time which can cost MANY times that of the vehicle, so it makes sense they will do everything in their power to keep the mileage low.
I do have an HHO generator, a pretty decent one too, up to 3LPM. When it was producing about .5LPM, my mileage went up about 5% and ran great. I jumped it up to 1LPM and this I broke mileage records (31City/48Highway), but this lasted for only 1 trip. I have brought it up to 3LPM and DESTROYED my gas mileage, no more then 15MPG city or highway, so poor I had shut off the HHO. I do use a Scanguage so I can tell how the engine is behaving very quickly.
The Volo definitely has it's limit's and don't know what it is, but it's not very high. I believe an EFIE in conjunction with this Volo is the way to go, but need to prove that. The EFIE will ball-park your HHO settings, then the Volo can "Tweak" that to optimum level's. Just the Volo is not good enough :( I believe this limitation is more on the ECU then the Volo, as it's programmed to keep mileage low.. Wish Carb's would come back out! I find it pretty pitiful that on all the old Carb-based vehicles, there is a little dial to change the fuel/air ratio, now, we have to buy additional hardware (EFIE) to get that same little dial. The only advantage, you can run the electrical wires to the cabin so you can adjust it while your driving down the highway.
I will add more later when I know more..
------
Lincoln Navigator 2000 , 24% with volo and 50% and 53% better MPG test with hho booster. Last mileage check it went to 25% better MPG. Why did it go down? ?
----
Honda Civic 2005 After installed the Volo FS2-HHO and follow all the instruction and setting into my Honda Civic, this chip did nothing at all and did not improved either my mileage or performance, same to the HHO installed into my 2005 EX. I do not know what exactly is going on with the car computer chip set, it seems like the staff you sent over does not work and don't overwrite the car system. I am very disappointed after spending so much money, gaining 0 mpg increase. Total waste.
( I try to help people above who get no gains, you can usually trouble shoot what they did wrong. Many factors come into play to see gains )
------
Toyota Tacoma v6 2002 I installed a home-made dry cell supplying about 1.5-2 liters per minute of hydrogen. I haven't seen any mileage improvement with and without the cell after the chip was installed. Although, the truck runs very well with the hydrogen and the chip. From everything i read about Toyota Tacoma's, they seem to not respond to a hydrogen cell mileage-wise.
Did you sell more chips for this same make and model? If so, were their results better than the ones I'm getting? If so, please send back some information regarding my situation.
------
Toyota Tacoma 2005 4 cylinder I was using a Mason Jar unit for about a thousand miles before it quit. So I removed it but continued to use the Volo chip without hydrogen. The gas mileage is still around 25 mpg even on these windy mountain roads. I use regular ethanol and synthetic oil.
-------
Mazda 2001 I purchased two Volo FS2 one for a 2001 Mazda and one for a Chevy Suburban. After several phone calls and a visit to a Ford garage I was able to get the Mazda to work, sort of. After an initial drop in mileage and increased emissions I followed the break-in suggested verbally and now have reduced emissions back to where they were and seem to be getting about one mpg increase.
Chevy Suburban The Suburban experienced a 4 mpg increase%, for about one week.Now it's back to its original mileage. The hho generator increased the mileage from 8.5 to 14 mpg. The owner is happy with that so I just left the Volo sitting there blinking happily. I like the concept of Volo but am afraid to order more. I have six rigs waiting for an hho package. They have to work right from the git-go so your guarantee is worthless to me. A failed installation hurts everyone in the industry. Perhaps you could get the inventors out of the cave they seem to be hiding in and get some help. I would be happy to order the product from you when you can assure me it works every time and all the time.
---
Ford Freestar 2005 , 3.9L engine. I installed a HHO generator from Mileage Shop, also called Alternative Fuel, 5 months ago. The gas mileage didn't change at all. Afterwards I purchased a FS2 unit from you and I purchased a pig tail to plug into the van. I connected the FS2 to the pig tail, so I can plug in and unplug this unit, from the vehicle. The first unit didn't do anything. When you sent me the second unit, my mileage went from 15mpg in town to 18.9mpg and highway from 19mpg to 24mpg and the lack of power at 1/2 throttle, from take off to 2,000 rpm is gone now.
I checked it on many trips, with HHO generator running and without. There is no difference. Two months ago I lost alot of power, so I took it to a Ford Dealer. They showed me my intake manifold was plugged up with soap flakes, the intake runners were stuck closed, the catalytic converter had gummy substance which caused exhaust restriction and all four oxygen sensors had stuff melted over them. It cost me $2,200.00 to get my van fixed and to have the HHO Unit (soap flake maker) removed. Expensive lesson.
I took many trips with just the FS2 unit on, now my mileage has improved to 27mpg, just driving 5mph over the speed limit, same as I always drive.
I'm very happy with my FS2 unit. Last week I drove to North Carolina with the FS2 unit unplugged and I got 19.6 mpg. On the way back I plugged it back in and I got 27mpg. It definitely makes a big difference. Thank You for everything. -------
------
Hyundai Tucson 2006 I worked with the Volo FS2-HHO since April both with and without the HO booster turned on. Having conducted over twenty trials I have been unable increase my mileage and in one interesting trial I actually lowered my mileage by 1 MPG. In each trial I traveled between 250 and 400 miles before making another attempt. It now sits unused in my Hyundai.
(in this case send back for a refund, or burn it for another car. Just send it back.)
-----
Dodge Magnum 2008 2.7 Liter V-6 I have since installed a HHO Generator in my Dodge Magnum. I have a Volo FS-2 HHO Edition Chip and the results are pretty good. Original MPG ALL AROUND DRIVING 17 TO 18 MPG, Now 21 to 22 MPG. Freeway was 20 Mpg now 26 to 28 Mpg This Friday we will take the Ion on a 600 mlie trip. it is also equipped cell unit and a Volo FS-2 HHO Edition Chip. I an expecting good results and will write you with the results. .
-----
Toyota RAV 4 1995 Well I am still getting a 11% increase in mileage with my 1995 RAV 4 using the FS3 circuit.
---
Holden Commodore 2007, 3.8 Liter I installed my system on my 2007 Commodore and have achieved fuel economy improvement from 13.5 L/100km to 6.1 L/100km.
----
For your information, Every of Volo Chip especially FS2 which we burn are working fine on all Asian Made cars.
------
Toyota Tocoma (year?) the volo fuel saver has not made a difference in mileage, but it has in performance the acceleration is more responsive
----------
Chevy Colorado 2010 Installed Volo chip and B3 cell. Running B3 at 18 amps, bubbles like hell. Reset the Volo chip several times. Gas mileage on a 3 tank average was 19.2mpg is now 16.1mpg. So far have a 3 mpg loss.
-----

Toyota Sienna Van, 2005 BOUGHT A VOLO FS2 ABOUT 18 MOS AGO TO INSTALL IN MY 2005 TOYOTA SIENNA VAN. RUNNING A HOMEMADE HHO SYSTEM IN THE VEHICLE FORMERLY I GOT ABOUT 19 MPG ON THE FREEWAY. PRESENTLY GETTING 23.3 MPG ON THE HIGHWAY, BUT I DONT KNOW WHETHER IMPROVEMENT IS DUE TO THE HHO SYSTEM OR THE VOLO CKTRY. SUSPECT ITS THE VOLO, SINCE MY HHO SYSTEM IS NOT AUGMENTED WITH ANY EFIE HOOKUPS. "O2" SENSORS ARE TOO BURIED IN THE TOYOTA VAN ENGINE TO BE ACCESSIBLE. PRESENTLY, I DISCONNECTED MY HHO TEMPORARILY. DO I HAVE TO RESET MY VOLO TO COMPENSATE FOR LACK OF HHO AUGMENTATION
-----

Ford F-150 Truck 2000 5.4 liter v8, 15.5 mpg originally. Added a volo-2hh o: 15 to 16 mpg. added hho generator, reset the volo and averaged 15 mpg for about 10 tankfulls.reset the volo then pulled my 16 ft stock trailer on long interstate trip and got 9 mpg whether or not hho generator was on or off.got back home and turned off hho generator, after 2nd fillup started getting 17.5 mpg.
I used a pwm and a 9 plate dry cell on my 2000 ford f150 5.4 liter gas engine w/ volo2hho. no improvement after many tankfulls and volo resets. turned off the pwm and drycell, reset the volo and got a 1.5 mpg increase
------

Pontiac Aztek 2003 was 20MPG to 23MPG, NOW 24MPG to 26MPG at 70MPH. Got 30MPG one time when had to stay at 55 MPH. This is with full of people and luggage for vacation.
---------

Honda Element 2004 A while back I purchased an FS2-HHO and installed it in my 2004 Honda Element. I got about a 2 mpg increase in mpg 21, I did not run any HHO system because the one I purchased was crap and did not produce enough HHO to benefit the car at all. So yes, I did get an increase of about 8% to 10% using the FS2-HHO all alone.
-----
Dodge Hemi 4x4 Truck 2005
Dear hydrogen Garage, Thanks for providing me with such a wealth of knowledge and quality products. I have a quick technical question for you. I just completed a full installation on my 2005 Dodge Hemi 4x4. Due to some minor leakage issues with my tank, I was forced to operate the truck for a day without the cell in operation. I was only operating with the freshly installed Volo FS2 Chip, which at the time was not even calibrated. In my travels for the day I noted the instantaneous MPG reading was steadily improving. It reached up to 21.4 MPG.
------
2001 Volkswagen (VW) Jetta 1.9tdi : Diesel. Hydrogen cell and Volo fs2 installed.
Fuel Economy Run On VW Jetta 1.9 TDi Diesel 2001 Using Central Valley HHO Hydroxy Cell Kit (43.3% reduction in fuel consumption with Hydroxy running)
------
2005 Nissan Pathfinder 4x4
Engine Capacity: 4000cc V6 supercharged. Hydrogen cell and Volo fs2 installed.
Fuel Economy Run On Nissan Pathfinder 4.0 V6 Petrol 2005 Using Hydroxy cell (37.25% reduction in fuel consumption with Hydroxy running on the open road trip. 36% reduction in fuel consumption with Hydroxy running in town driving trip)
----------
1990 Dodge Cummins 5.9L (diesel) - We are getting 36% better MPG with 50 amps, on our Dual Trucker Cell & PWM, with a high power alternator. No Volo, no electronics to fool the ECM.
----------
1997 GMC Safari , withh an HHO cell, Volo Fs2 circuit, I get 21% better MPG.
----------
2007 Toyota Tundra, B3 Kit with Volo FS2, getting 4 mpg on a V8 engine!
Well I did what you said. I mixed the KOH in water first and then added it to cell. IT WORKS!I will experiment on a higher percentage to see what I can get out of this cell. I may end up purchasing another cell and doubling it all up.

One question about the PWM. How can you change the amperage to get more than 10 amps? I am running at 10 right now and I would like to experiment with 15-20. Thanks again for your help. If I can get a little more mpg, I'm going to go buy a new truck. HA HA
----------
2010 Chevy Camaro , I recently purchased the FS3 chip from volo. I put it in my 2010 V6 Camaro. I have noticed only a 5-10 mpg increase per tank while driving in the city. Once on the highway, is when it starts working. I haven't got exact numbers but it's up to a 30-40 mpg per tank increase. A 30% increase!!
-----------
2005 Toyota FJ Cruiser
By the way I installed mine in the FJ Cruiser and just the Volvo is giving me about 2.5 miles per gallon more. It dose not sound like much but 13 to 16 is a big jump!
---------
A Volo FS2, an Ice Block 77 Cell kit and new air filter cone was installed 8/11 on our Jeep. We also changed the oil & filter at this time. First gas mileage test was 18 MPG to 21.5 MPG. My wife felt the extra power, quieter engine. This cell was bench conditioned before installing. See photos.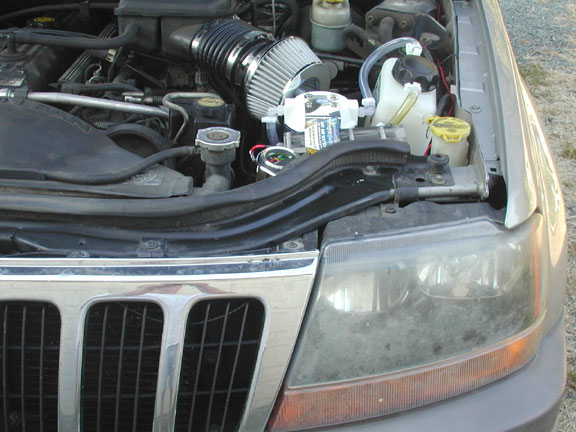 Recent mileage test, (8/25/11) we are now getting 25 MPG. Form 18mpg to 25mpg. The engine runs smother, quieter. Has more power, real clean exhaust, it does not smell like un burned gas standing near the tail pipe. You have to actually have to sniff the tailpipe to smell any gasoline smell. We are also taking out the Nox emission with our production of ortho hydrogen.
---------
2000 Chevy Express 1500 Cargo Van - I installed the FS2-HHO Rev. 5.2 on my 2000 Chevy Express 1500 Automatic Cargo van with the 6 cylinder mil. After the break-in I found no improvement in mileage but the acceleration was smoother and a bit stronger. After about 500 miles with no improvement, I re-initialized the chip. Now I have appreciable gains in gas mileage. It went from 12.5 city 15 highway to 14.6 city and 18.5 highway. The pick up has quite noticeably improved.
Next I will be installing a HHO generator. Hopefully I will get even better performance and mileage.
Read the Troubleshooting section on how to reset your Volo. Resetting it is like re starting your computer it helps write over the ECM signals. Do the rest while idling with a hot engine. Pull over and stop, idle the engine, while pushing the reset button down for 2 seconds. The calibration takes about 30 seconds to finish. The light show settles down to a solid green light.
------
2005 Chevy Malibu - With the volo chip alone I went from 25 mpg to 30 to 31 mpg if I baby it.
---------
2008 Toyota Tundra - I bought a Volo FS2. I have put about 10K miles on it using an HHO system. It consistantly provided me with 18-20MPG on my Toyota Tundra. Previous mileage was 12-14 MPG or a 30% improvement.

The benefit the FS2 gave me was it took out the guess work for finding the sweet spot in tuning the EFIE. The EFIE used prior to the FS2 had me always fiddling with the 'screw' and guessing how to et it to improve my mileage.

I was told the Toyota Tundra was the hardest Truck to adjust the EFIE while using HHO. I do believe this!

In reality I got a little better MPG with the EFIE, but the peace of mind that the FS2 gave me (and less frustration of not having to worry about the manual settings) was worth the difference in the MPG on my Toyota Tundra.
2004 Kia Optima with an FS-2 Volo and I'm getting a solid 12% gain in MPG with no modifications. I am ready to do something about the air filter. My question is should I get a drop in air filter for my factory filter box or buy an open element cone filter. Does the Volo respond better to colder intake air or warmer intake air.
On the Volo FS2 - HHO Edition, you push the reset button while the car is pulled over, hot and idling. Stop, idle push the Volo reset button with a paperclip or toothpick. It will calibrate your new air flow and adjust to the pressure on your MAF or MAP. The calibration takes about 30 seconds, so be patient. Once they light show settles down and goes soild green, you can start driving again. You can reset the Volo, anytime you want, it is like restarting a computer it resets and checks the air flow past the MAF sensor wire.
1997 Chevy K1500 Diesel 6.6L Truck - Homemade 7 plate cell with a PWM70 install, no Volo. Used to get about 15 MPG, not gets 30+MPG! a 100% gas mileage gain!
1990 Dodge Truck, 360cc - I have two B3 cells on a 1990 dodge 360cc now for over a year and they work quite well I went from 8 city and 10 hwy to 10.5 city and 17.5 Hwy.
2004 Ford F-250 Powerstroke Diesel 6.0L- Added a CVHHO 7plate, 8"x 10" HHO cell kit and a Volo FS2, went from 18 MPG hwy miles to 22 MPG, even carrying a load.
2008 Dodge Sprinter Tall Van - The Volo FS3 has given me 24 to 26% better mileage!
2007 Honda Pilot - The Volo FS3 has given me 2 to 3 extra miles an hour than before.I can feel more power when flooring it to get on the freeway. Mileage is not coming up yet? Still giving it more time to over ride the ECM.
2000 Toyota Solara V6, 3.0L - With the Volo FS2 installed, my mileage went from 23 mpg up to 30 mpg!! I've been working with hydro cells on my car for years with home made wet cells and dry cells but yielding no big different until I bought a manual adjustment EFIE chip but it was very unstable and engine check lamp (ECL) displayed very often. But the best part of HHO injection to me is that the exhausted gas coming out from my pipe is must cleaner and not heavy smell when I turned off my hydro cell. BTW, with manual adjustment EFIE chip I had to cut wires from a sensor near the intake manifold and disconnected the EFIE chip during the smog check. The beauty of using HHO on cars is that my car pass smog check easily perhaps HHO helps completed burn due to its extreme fast flame speed and reduce carbon deposits inside the internal engine combustion chamber.
I keep watching news related to the HHO technology because I strongly believe hydrogen is solution and I'd been watching the Volo chips particularly the FS2 for hydro cell installation. I like the way Volo guys doing business to let customers try the Volo chips. It costs me few bucks for my shipping cost if it is not worked out and with the Volo FS2 installed, my mileage went from 23 mpg up to 30 mpg thus 30% MPG increase on HWY. I am using the Kiwi MGP reader and/or divided my mileage per tank over number of gallons (16gal.) to fill my tank. Today with HWY mileage I can get 450 miles per tank but I have to change my driving habits; putting any OBD readers on your cars will display heavy fuel consumption when you press you gas pedal. It's obvious to press the gas pedal to accelerate our cars but we should learn how to let the gas pumped into the combustion chamber burn by slowly release the gas pedal after press it hard while maintaining the car speed.
Sorry, I am not trying to teach any one but sharing tips from my experiments. It's our duty to help reduce carbon pollution and save our lung from cancer while gaining mileages and save some bucks :-)
There are evidences that government and its agencies knew well about HHO injection into combustion chamber's benefits but for some "reasons" they never recommend or lobby it into laws to mandate injection of hydrogen into engine combustion chamber to effectively reduce the pollution and bringing benefits to all drivers plus helping new businesses to shoot out with applications of old technologies!!!
http://www.fmcsa.dot.gov/facts-research/research-technology/report/Guidelines-H2-Fuel-in-CMVs-Nov2007.pdf

Page2 23 and 24 talked about hydrogen in the combustion chamber.

http://www.afdc.energy.gov/fuels/hydrogen_basics.html

Hydrogen also can be used to fuel internal combustion engines and fuel cells, both of which can power zero- to near-zero-emissions vehicles, such as hydrogen fuel cell vehicles.

2004 GMC Sierra truck - With the Volo FS2 installed, CVHHO cell kit ( 8" x 10") my mileage went from 18 mpg up to 22.5 mpg!! 25,pg on freeway driving. This mileage increase happened with slow progress, first leaking cap, then volo had issues, due to bad grd. on the Sierra's OBD II grd, was not good. After being patience the mileage finally came and is staying, like on all Bob Boyce cell systems
2007 Kia Sportage 2.0L - I drive a Kia Sportage 2.0 GPL, 2007.
The results are around 10% to 15% gain.
2002 Suzuki XL7- 17mpg, with volo chip 20mpg chip and with hho 27mpg
2000 Jeep Grand Cherokee Laredo 4.0L I'm finally starting to see a improvement on MPG's, I have a dual HHO system, running between 2.5 - 3.1, is where I 'm seeing my gains. Maybe 2 -3 MPG's, wish it could be better for the $$$$ spent on the system. I purchased my VOLO chip FS3 prior to installation, elsewhere. So instead of 19 MPG's I'm getting now 22MPG's, not like what was predicted. Prediction with HHO system was 26 - 27 MPG's As far as the VOLO chip, I get HP gains, but not neccessaryly MPG's as predicted.
?? Honda CRV - I don't think my Honda crv was a good choice for this hydrogen.Was getting 30 miles to a gallon before hydrogen. Didn't get much better and throttle position sensor started scewing up. ( this customer did not bought one of our cells.)
The chip did absolutely nothing was a wast of money.
1998 Ford F150 V6 - I purchased a Volo FS2 several months ago. Now I just recieved an email from you asking for feedback on it. I carefully installed it and reset the Volo allowing it to adjust after 120 miles of driving. I actually did this 3 times after 150 miles . There was no change in MPG at any time. I put several hundred miles on my 1998 Ford F150 V6 . It did not improve my MPG at all.
2003 Chevy Astro Cargo Van - I have the Fs2 in a 2003 chevy astro cargo van , tried it with hho with no gains.Took of the hho still no gains. Put in 3 ounces of asetone per 10 gallon of gas went from 16 miles per gallon to between 17 to 18 miles per gallon.
( this customer did not bought one of our cells.)
1996 Ford Explorer V6 - I bought a FS3 unit for my old 96 6-cylinder Ford Explorer. I only use this vehicle in the Winter to drive up to our local ski area 26miles away. But even with slippery roads and adverse weather I still received a modest gain of 3-6 MPG increases. In otherwords from 15 MPG prior to installation to now 18-22 MPG. So I am very happy with the FS3.
2011 Chevy Silverado 5.3L - Preliminary so far.
7/03/12 57.7mi. - 19.3 mpg - stock
7/10/12 57.5mi. - 19.6 mpg - FS3
7/17/12 57.1mi. - 21.7 mpg - VP12
2011 Chevy Silverado 5.3L w/active fuel management
1996 Buick LeSabre - I noticed no difference in the mileage or power. I was disappointed.
2011 Ford F-150, 5.4L - Stock, I was getting fluctuating fuel mileage of between 12 miles to the gallon to around 15 miles to the gallon. I tried every driving trickin the book and got no increased performance. After installing the volo chip I was getting some 17 mile to the gallon readings on and off.. finally, It stabilzed at 15.7 miles to the gallon, no matter how hard I drive. Normally I have a heavy foot and Drive in the 75 mph area. I would say safely that with the volo chip, I get a constant 2 mile to the gallon savings...well worth it.
2002 Jeep Liberty - 27% increase in hyw mpg using home built HHO cells with O2, map, ait and water temp sensor biasing circuits...also home built. Added the Fs2-HHO and saw no change. I believe I already maxed the efficiency before the volo. HG reprogrammed my volo for a 1999 Nissan Frontier. Achieved @ 10% increase in hwy mpg w/ hho booster and "other" enhancements. Next step is to reprogram my volo for a 2006 colorado and continue to experiment. Every vehicle seems to be slightly different with how it excepts increasing efficiency. I want to find success with the volo, my sensor bias circuits, although very simple in design, take time to install and tweek; unlike the volo.
2001 Volvo V70 - I purchased my Volo in January 2012 for a 2001 Volvo V70 with 120000+ miles. I bought a male-ODBII connector as I did NOT want a permanent installation of the Volo. I installed the Volo in March for a long road trip. After the second day, I could tell the car was leaned out by the lack of torque going up hills. After a few days, I could see that I was getting NOTICEABLY better mileage (perhaps 29 mpg instead of 24). But really, this was a test and it worked to perfection. To provide the needed "OOMPH," this unit needs to be accompanied by an HHO/Hydroxy system. (Volo recommends a permanent install, otherwise it may not work.)
1998 Saturn SW2 no change in mpg.
2009 F-250 Super Duty, 6.8L, V10 - 10% gains, volo alone.
2008 KIA Spectra 5 I purchased the FS-2 hydrogen chip and installed it on my 2008 kia spectra 5. The spectra 5 is rated at 24/32 mpg. On a 560 mile trip it got 45 mpg, averaging 32 mpg around town. The power is snappy. However, the sensors seem to override the chip and I need to reset often. Do you have any suggestions?
Answer : Soon the B3 Volo chip will be out, faster than the previous B2 blanks. (10/1/12)
1989 Oldsmobile, 3.8L - OBDI car, so no volo available. Two B3 cells, PWM and EFIE on the O2 sensor and MAF adjuster D-EFIE, 30% MPG gains! Runs great on HHO.
1985 Toyota Corolla - OBDI car, so no volo available. Running HHO, EFIE and a MAF adjuster / D-EFIE with HHO, getting 50% better mileage.
2012 Ford F-350 King Rancher, Super Duty diesel. 6.7L Installed a Volo FS2 and a CVHHO 8"x 10" Recirculating Cell kit, went from 15.4/15.6 MPG to 19.8MPG! On a 12,000 lb. dually work truck
2012 Honda Civic 1.8L Installed a Volo FS2, v7.0 and a B3 Cell kit, went from 30 mpg to 40 mpg. Had trouble with the volo at first, due to clip connection problems. HG recommends soldering the volo for it is a permanent install. Warranted cars have to use the clips. Only running 3 amps to get these gains!!! High quality gas!
2003 Jeep Cheorkee I've been meaning to get back to you with my review on the fs2-hho I have a 2003 Jeep Cherokee. Just been through its first month with the FS2 chip on and its the first time the emissions have been that low! A year before struggled to get through emissions, this year straight through. All I've done was connect the FS2, it took awhile to monitor but without hho, im getting improved mpg on a run it was 29 now its 32/36 mpg overall im pleased now that the chip has settled down will be putting hho in near future.
2000 Dodge Cummins Diesel Truck, 5.9L Now getting 25 MPG! With Volo FS2 and Ice Block 14/7 cell kit.
1996 GMC Sonoma 4.3L with just the Volo FS2, went from 22 MPG to 32 MPG, I couldn't believe it, 2 gas tanks tests and double checked to make sure, it was correct. Flooring the truck, set me back in the seat, never experienced that before!
2004 Cadillac SRX V8 engine. Results with the Volo FS3, went from 14.9 MPG to 21.9 MPG!! I couldn't believe it, I get an extra 7 more miles per gallon of gas I purchase. I love VOLO PERFORMANCE!! Thank you Andrew!
2004 Ford Explorer Sport Trac, 4.0L Results with the Fuel Vaporizer and Volo FS2, I got 38.18+ increase in mileage! Exactly what I got on my 1991 Ford Explorer V6, 4.0L

1999 Toyota Camry, I4. Installed the Volo chip model FS2 May 2013. Did a long trip 7,000 kms and saw fuel consumption decline from 7.2 l/100km (32.7 mpg) on previous best gas mileage to 6.2 l/100km (37.9 usmpg) with some tanks getting averages of 5.8 l/100km (41 usmpg). A good 16% to 25% improvement!
2004 Kia Sedona Van V6, 3.5L Went from 19 to 23.5 or 24 mpg with just the Volo FS2. Local driving, no highway. Will add the Fuel Vaporizer soon.
2002 Toyota Camry, I am convinced the VOLO is a great investment,my 02 camry 4 cylinder averaged 34mpg over 6000 miles,with 250 extra pounds on board of stuff.
2014 Dodge Ram Hemi, 5.4L Customer installed his own 11 plate 6"x 6" cell, bought a PWM30 from HG and a Volo FS2 and is only runig his cell at 5 to 7 amps and is getting 30% better mileage!
2004 Ford Ranger, 4.0L, Looking to buy three gas saving Volo units. Was very impressed by the first one I purchased. during the first 150 miles in mixed city/highway I went from 16.2 to 17.5. On a long trip to Myrtle Beach, via Harrisburg, PA and Atlanta got from 20.2 to 22.0 mpg. My best prior was in South Carolina several years ago was 18.2. I have paid for this unit from September until today.
2013 VW Jetta TDI diesel engine. Results with the Volo FS3, went from 34 to 37 MPG to 40.0 MPG!! At little over 10%. Excelleration onto the freeway is smoother, slight more power. I like it.
2007 Ford Focus The Volo FS3 works on my Ford Focus, had it for four or five years. 38MPG from 33. Speeds will increase it to 40Mpg if speed is reduced 10 mph. Now I really want to see if it works on a 2003 Dodge Cummins diesel, that I have recently purchased at auction. This product really does work, and works well.
2000 Acura TL, 3.2 I have a 2000 Acura TL 3.2 that gets now 300 miles in 17 gallon tank in city. Almost 500 miles on highway! I was surprised.I would get 350 miles on I-95 before VOLO and 225 miles in Ft. Lauderdale. Get it. Easy install. Pays for itself in no time.Thanks VOLO
2015 VW Jetta TDI, turbo diesel 3.0L Ken from Canada was hired to perform a test on the recalled VW diesel Jetta's. He installed a 77 cell and PWM and bubbler and 5" dryer filter and Volo FS2 circuit on this diesel car. Results at a DYNO LAB were incredible! 70 KPG from 40 KPG, cleaned up C and HC 85% and Nox by 90%!! It had all sorts of HP increased HP by 35% and increased torque by 35%!! Un heard of the Dyno lab guys had to re adjust their equipment to find it the same results! ORTHO HHO BONDS TO CARBON LIKE GLUE!! para hho ( common hho) repels carbon , but still blows it apart, but pre detonation is a problem to over come. Make a small amount of the static cling form of HHO 85%+ ORTHO HHO and se the RESULTS like this!! Al from Bob Boyce's 30 years from research!
2013 FORD Fusion With a Volo FS3 installed mileage went from stock 25 MPG to 28 and 30 MPG on a recent road trip! Also excellerates smoother better!
2005 Dodge Ram Cummins 5.9L diesel installed a Volo FS2 and a 14/7 Cell kit
Now getting 4 more miles per gallon!
1999 Oldsmoblie Intrique, 3.5L Installed Volo FS2-HHO on my '99 Olds Intrigue 3.5 keeping the Aqua Tune system I already have. It's running very well. If I have more specifics, I'll let you know.
2004 VW Touareg 4.9TDi V10 Biturbo engine I installed the VP 15 and I am very happy with it!!! Also, I have tested the different programs. there was around 15% better fuel economy at first, in fuel saving program without HHO. Later, I found it to be more efficient and economic while run-in the chip for HHO than without HHO. And, it seems as of now, that the most beneficial program for my car is max power and HHO mode. The gearshifts is sooo smooth in that program. I get around 20-22 % better fuel economy while driving it in fuel saving mode and HHO for daily drives. 26% over long distance driving which was tested in one long distance drive over 1200km. But actually, I found it to be more efficient in max-power mode than in fuel saver mode! Exactly the same route for my daily driving. 24-26% savings depending on the weather and driving conditions, which changes rapidly here. I have not tested that mode for long distances yet, but I will do the same 1200km long distance drive again, in reverse, and back again, using max power mode. Then i will be able to know the difference for that kind of drive.
2004 FORD F150 I installed a Volo FS2 on this new car and it went from 21.4 MPG to 24/25 MPG. 3 tanks load of gas so far. The first tank load the same, but the 2nd and 3rd tank it is now at 24.25 MPG and has slightly more pick up. Will add a 77 HHO cell soon, in the spot under the hood, where an extra battery can go. Passengers left side.
2014 Ford HHO generator set at 12.5 amp for 5L engine. ODB2 gauge, Android tablet , Torque ODB2 app. Before : 13.5 l/100 km ( 100 km trip )
After : 10.1 l/100 km ( 2nd 100 km trip ) Fuel savings = 25.19%
2009 Jeep Wrangler Thanks for the help. This past Wednesday I made a trip of 311 miles and everything worked perfect. My Jeep used to make 19 mpg and now it makes 24.7 mpg. Im very happy. I know I can improve the mpg. I discovered that I had some leaks in the hho system and I already corrected them, now I have to continue testing. My next project would be a Honda Pilot 2010 3.5 V6 Thank you very much for the help.
2004 BMW 325i I installed a Volo FS2 and S7 HHO kit, on this beamer and it went from 22 MPG to 25/26 MPG. (around town driving) Love the extra HP and the engine runs smoother, quiter. I made a video of the install.
2004 Lincoln Aviator, 46.L V8. I installed a Volo fs3 fuel saver, my fuel economy went from 18mpg to 30! I got a picture if you don't believe me lol
updated 6/7/2020 (latest posts are here at the bottom.)
------------------------------------------------------
Troubleshooting
If your volo is flashing every 5 seconds while driving, this means that the Volo circuit is still looking for your engine's MAP. If this does occur, driving around up to 200 miles can trigger it to find the MAP and finish calibration. If it continues to flash red , then you should return it or send it back to be re-programed. We offer free re-programing.
VOLO instruction detail
The chip should go into standby when the vehicle is off. This can be a red flashing light, while the car is parked. Some cars the led lights in the blue box, they stay green.
Please check the following most common causes. Some of these may not apply to you.
Negligible results after a proper reset are almost always a result of one of the following:

1. Incorrect analysis of normal fluctuations in MPG (usually +/- 1 to 3 MPG), or a subtle change in driving style due to an increase in power.

2. Measurements taken without reference to variances in real world conditions such as air temperature/density, or varying average speed.

3. Faulty O2, MAP/MAF, IAT, or TPS, blown fuse, existing trouble codes, or other pre-existing problems. The Volo Chip cannot remedy existing troubles or faulty sensors.

4. Improperly installed HHO system, or vacuum leak introduced from HHO installation.
By itself, the Volo Chip is technically incapable of producing negative results.
------------
Some forget to push the Volo FS2 reset button a 2nd time. You push the reset button again, while the car is idling and the engine is hot and running in "closed loop" mode.
Turn your HHO booster ON or OFF. the volo circuit calibrates the MAF air flow or MAP manifold pressure, as your cell is making hydroxy gas. Warm the engine up, drive around, then pull over and push the reset button, it will flash the lights for 30 seconds, wait to start driving when the light flashing finshes. It should then go steady green lights, with an occasion red flashing while driving. The red flashes when a sensor is triggered.
Volo Green Light on even when car is parked. Some cars the volo stays on, don't worry the low power led will not draw much power.
Install tips :
Volo FS2 - HHO -Edition extra reset feature. If you change anything in your set up, (add a cell, or change wear you put the intake hydroxy gas hose, disconnect the battery, etc. ) You MUST push the rest button on the volo blue box. Use a toothpick or paperclip. Only do this when the engine has warmed up and in "closed loop" mode and idling, push the reset button. You can push this reset button as many times, it is like restarting your computer, it clears up issues, but does not lose the data. The Volo is recording your miles & other info. Drive the car, warm it up, pull over and push the reset button, while idling. Most cars start up in "open loop" until operating temp. then switches over to "closed loop mode" ( 5 minutes or less) How do I know it is in "closed loop"? Buy a $160 Scangauge II, a gas saving mileage indicator on the spot. Ask any one who owns a Scangauge II, they will tell you that they love that thang.
Even though the OBD II port plug seems like a great idea. DO NOT USE THEM!
The owner of Volo says NOT to use the plugs. The Volo circuits are all permanent installations. The plugs make it too easy to un-plug and plug in the volo, making the volo un affected and no MPG gains No masking of the HHO you may be introducing into your air intake. We do not recommend this as it encourages frequent installation and removal resulting in negligible gains. Each time the device is disconnected, calibration and 120 mile adjustment period must be repeated. During this time gains may not be evident. NOT A GOOD IDEA TO USE THEM! If you make your own pig tail connector or wiring terminal, leave it plugged in. If you un plug it, push the reset button again, while hot and idling as stated below.
Does Volo make a chip for your car?
Remember #4 pin is black wire, ground, on all US & European & Asian cars, OBD II's (1996 to 2010) and the pin #16 is positive, red wire. The volo white wire goes to (+) K-Line Engine Diagnostics, and the Green Volo wire is a isolated ground(-) that works with the white engine diagnostic wire. Look up your car's wiring schematic in a Clymer or Haynes auto book that they sell at most auto part stores. You don;t have to buy the book just thumb through the pages to the wiring diagram to your OBD II port. Look for he K-Line Engine Diagnostic wire, to make sure your protocol is correct as the wiring diagram to your OBD II port.
Pin #4 and #16 are the same on all these protocols.
17 good results, 3 bad results = 82% positive
Do you have the wires hooked up correctly? Check again, a few customers mange to hook it up, upside down. Follow the instructions here.
FS2 Volo Install video on Youtube compliments from Ray.
Please send us your results so we can keep adding to this page. We WILL NOT put your name or city or nothing, just facts from you , your make model year car & results for MPG savings? HP increase? We want to pool as many results as possible.
Some get the circuit installed and experience good MPG savings the first fill up, after that it goes back to normal. You may have to reset the reset button at each gas fill up, and always reset in idle, all warmed up. Takes 30 seconds to calibrate and the lights go steady and you start driving again.
If your Volo flashed a red light every 5 seconds, that means it has NOT found your engine MAP yet and the volo is still looking for it. If you experience the red light flashing in intervals of about 5 seconds, consistently , then you WILL into see any gains, and you need to trouble shoot the wires. Check your driver's door jam for the manf. date of your car, to see id you have a cusp car or not? Dec. or Jan. year built cars may have the previous or following year, new or older model engine. Car Dealerships encounter this problem, from time to time. Volo has 19,000 different MAPs of engines, one can be written wrong, we are sorry. With VP5 software, most bugs are fixed.
Warranty Limitations and Return Policy
Your Satisfaction is Guaranteed!

In the rare event you don't notice a difference immediately, please reset the chip as indicated in the instructions and try again. Depending on the vehicle, it may take up to 120 miles of driving before some ECUs will accept the VP12's patched values. This safety feature prevents an ECU hiccup from impairing the entire system. If you've tried everything and still don't notice a difference, return the chip within 30 days and we'll be glad to provide a full refund of the purchase price. Please contact" i n f o @ h y d r o g e n g a r a g e . c o m for RMA before sending return.


Hydrogen Cell Generator Review 11/2010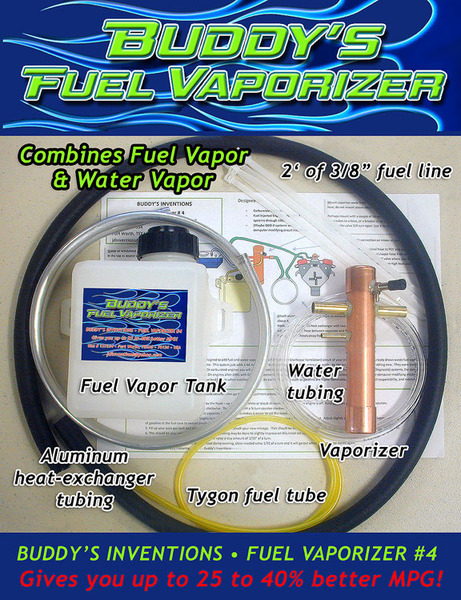 Buddy's Fuel Vaporizer Results (4/12/17)

References for vaporizer's results :

94 Cadillac Seville, 4.9L V8 +45% (18 mpg to 34.5 mpg)

94 Plym.Voyager, V6 +43% (18 mpg to 25.8 mpg)

2004 Kia Sportage with VoloFS2 +33% (24 mpg to 32 mpg)

94 Plym. Voyager, V6 +43% (18 mpg to 25.8 mpg)

95 Dodge Caravan, V6 +43%(18 mpg to 25.8 mpg)

91 Ford Explorer, V6 +38% (16 mpg to 22 mpg)

74 Chevy PU, V8 350 +53% (9 mpg to 14 mpg)

95 Ford Duelly, V8 460 +133% (6 mpg to 14 mpg )

98 Ford Explorer, V6 ( orig 17mpg with Volo and vaporizer
23.5mog or +38% better).

98 Toyota Camry, +25% and counting, better mileage.
More Fuel Vaporizer results, click here.