Installing your "Volo FS2-HHO Edition, or FS3 or VP12 Circuit"
Simply follow the paper booklet that came in the Volo circuit box.
Finding the right wiring protocol for your car or truck.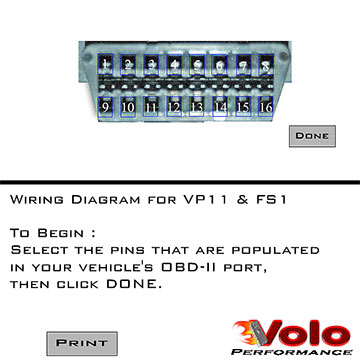 Download this OBDII Port diagram. Click on the text or photo above to download the plugin.
Next click on the port numbers that your pins are populated to. Some are blanks others have metal pins.
It will get you the same results as the included paper instructions. Best to double check and use both.
Get the latest version of "Adobe Shockwave FLASH" to view this diagram, if the download does not work.
updated 12/30/18

OBD II • Wiring Protocol will vary depending on vehicle manufacturer and year.
This tool allows you to easily identify your vehicle's protocol and
print a wiring diagram for your vehicle.