Hydrogen Generators • Hydrogen Fuel Cells • HHO kits • Hydrogen Cell Review • Hydrogen from Water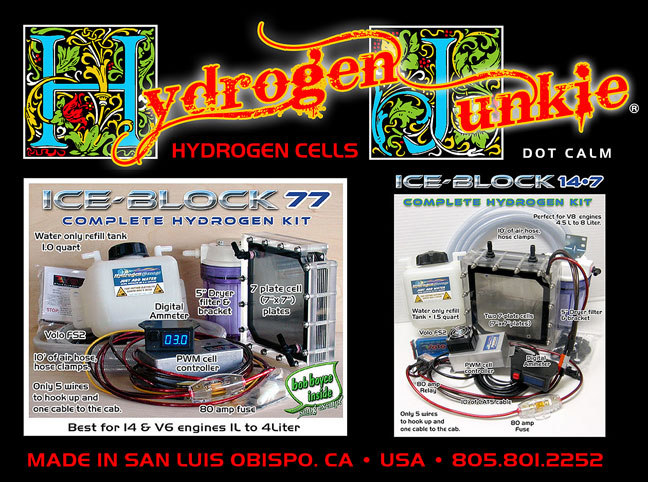 Sand Sports Magazine, Jan./Feb. 2013 issue page 23. 225,000 miles later after a CVHHO hydrogen Cell Install.
On a 2006 Chevy Duramax Diesel that got 30% consistant mileage and no problems with the cell system.
No leaks, no PWM failure, clean tank water the entire time, just added distilled water. Check one out today!
The CVHHO Hydrogen Kit above lower right, was installed on a 2006 Chevy Duramx Diesel Pickup Truck and
published his results in the Sand Sports Magazine, Jan. 2011, pg 60. He is experiencing
38% better MPG savings! Read here. issue
LA Health News, March 2011 issue, pg 26. Featuring the story on the Water Powered Car


Hydrogen Cell Review • 2013 Update • What's HOT? What's NOT!


Check out the Hydrogen Garage Parts Store. OPEN 24/7
About / Awareness / Education / HG store / Terms of HG / Contact / Links / Sponsor
Hydrogen Garage LLC • California • USA
Website Statistics Preparedness Kits • update 3/6/13